Clothesline Saga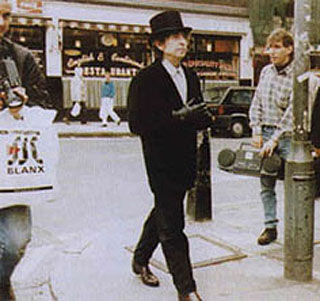 When I first saw Dylan live in 1992, I expected him to be wearing a hood. I was surprised to see him dressed like the dandified gent in the above right picture. Since I love 19th-century clothing, I'm mostly interested in the 1860s-style suits and ties he favors nowadays. The following is a brief chronology of the clothing Dylan has worn onstage.
Home Page
Vital Statistics
A Bob Dylan Timeline
Words Commonly Found in Dylan Songs
Anecdotes
Stories in the Press
Big Screen Bob
Links
Some Other Kinds Of Links
Sundry FAQs
Reader Survey
Survey Results
Walkin' New York
Give Something Back
Sign the Guest Book
View the Guest Book
Write Me
About This Site
My Back Pages
Remembering Charlie Smith
Odds 'n' Ends
20 lbs. of Menus
Click to feed an abandoned animal at no cost to you!