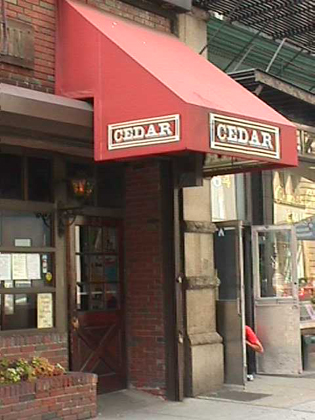 The original Cedar Tavern at 24 University Place, photographed by Fred McDarrah, and the current Cedar Tavern at 82 University Place.



Cedar Tavern
82 University Place between 11th and 12th Streets



Once the hangout of Jackson Pollock, Willem de Kooning, and others of the New York School, then of beats Allen Ginsberg, Jack Kerouac, and Gregory Corso, and in the '60s Tuli Kupferberg of The Fugs, David Amram, and occasionally Dylan. Though it has a long and honorable history, Cedar Tavern has been at its current location only since the early '60s; the original location was a few blocks south at 24 University Place. According to Bob Spitz's Dylan: A Biography, D.A. Pennebaker, Dylan, and Bobby Neuwirth met to plan the shooting of Don't Look Back in the Cedar Tavern.

Thanks to Robert McNamara for the Cedar Tavern information
Back to Walkin' New York map
Table of Contents
Home Page
Vital Statistics
A Bob Dylan Timeline
Words Commonly Found in Dylan Songs
Clothesline Saga
Anecdotes
Stories in the Press
Big Screen Bob
Links
Some Other Kinds Of Links
Sundry FAQs
Reader Survey
Survey Results
Give Something Back (charities)
Sign the Guest Book
View the Guest Book
Write Me
About This Site

My Back Pages
Remembering Charlie Smith
Odds 'n' Ends
20 lbs. of Menus
Click to feed an abandoned animal at no cost to you!